Valle Shield is Safe and Sound for College Coach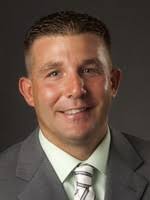 Justin Beach was sold as soon as he saw the Valle Shield Hitting Screen.
"(Owner) John Valle approached me with this new Shield and mentioned its safety features over a conventional L-Screen," says Beach, who is in his 11th year as head baseball coach at The College at Brockport. "He showed me how the Shield worked and let us use a demo. My first impression was that John was really onto something."
Brockport has become a SUNYAC power under Beach, with winning seasons every year and two trips to the NCAA Regional Tournament. His overall record is an impressive 219-157, a .582 winning percentage.
Beach was a star outfielder at Hudson Valley Community College, where he led the Vikings to a fifth-place finish in the 2001 NJCAA World Series before transferring to Brockport as a junior. His senior year was his best. Batting primarily from the leadoff spot, he hit .307 with 4 home runs and 24 runs batted in as the 2003 Golden Eagles set a school record (since broken) with 31 wins and won the ECAC Championship.
Beach has seen a lot of baseball—and seen a lot of unnecessary injuries to hitters and coaches who use the traditional L-shaped screens. He had a chance to use the Valle Shield and was impressed at its safety and durability.
"The danger is more for the batter with ricochets off the original L screen," he says. "The Valle Shield will basically suck up the batted ball and protect the hitter from being hit. I've personally witnessed many players having to dodge a batted ball which ricochets off the screen, potentially hurting them."
The built-in safety the Valle Shield provides allows the hitter to focus on hitting (not dodging) and the coach to focus on observing the hitter without the threat of injury."
The Valle Shield also will last longer than traditional L-screens, Beach says.
"Valle uses top quality products which are made for the best baseball players in the world," he says. "This screen is by far the best screen that we have ever used. John is great to work with and is always looking to make sure you're happy with your product. If you're serious about safety with your team, this screen is well worth the investment.
"John has an amazing product, one we've had the opportunity to utilize the past few years. In the near future, when our budget allows, we will only have Valle screens in our complex."