The Valle Shield or the conventional "L Screen"? Easy choice for Orioles coach Jeff Manto.
Jeff Manto has been around the baseball world a few times. The corner infielder played for 15 minor-league teams, eight major-league teams (including the Yankees and the Red Sox), and one Japanese club from 1985-2000. He was part of two teams—the 1993 Philadelphia Phillies and the 1997 Cleveland Indians—that reached the World Series.
He finished his career with 274 home runs in 1,635 games.That's a lot of baseball, and one thing the former Temple University star has always noticed is how dangerous the traditional L screen is during batting practice."I would estimate a coach gets hit by a batted ball from two to 10 times a week, while using an L Screen" said Manto, now the minor-league hitting coordinator for the Baltimore Orioles. "It's crazy!"

The Valle Shield Hitting Screen is a drastic improvement from a conventional L Screen, he says.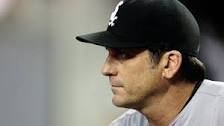 Manto was first introduced to the Shield by Don Werner, the Orioles' minor-league catching coordinator and a former teammate of Valle Shield owner John Valle, a former professional ball player himself for 13 yrs in the minor leagues. Valle sent a short video to Werner, and Werner forwarded it to Manto. It was love at first sight.
"I love the Shield for lots of reasons," said Manto, who was the Chicago White Sox hitting coach in 2012-13. "It's very versatile and most importantly, it's the safest L screen on the market."
The Shield is manufactured in Rochester, New York, and is developed to ensure it's the safest and longest-lasting hitting screen on the market.
Valle spoke on the phone with Manto about the Shield early in the year, then brought one of the Shields to the Orioles' spring training complex in Sarasota, Florida. Manto, assistant MLB hitting coach Howie Clark and head Orioles hitting coach Scott Coolbaugh used it for a few days and couldn't stop raving about it. It was safe, durable, and easy to move.
Clark, a former utility player who spent parts of six major-league seasons with the Orioles, Toronto Blue Jays and Minnesota Twins, used the Shield in Fort Myers before an exhibition game against the Twins and then wrote an enthusiastic email to Valle raving about it.
"I felt very comfortable behind the Shield screen, and the visibility was great," Clark told Valle. "I could finally see what the hitter was doing after throwing a ball. The net on top gave me a sense of security I rarely have in a batting cage. I wish all of our affiliates had your screens. They are made with great quality, are easy to move around and are as practical as it comes."
The Shield's safety factor also hit home to Manto. There are virtually no ricochets, thanks to a front-hanging net. No ricochets means no injuries to coaches or players—something that happens far too often throughout a season with players and coaches who use a traditional L screen.
"Year after year, hitting coaches are getting hit by batted balls that either go through the net or ricochet off of a wall, batting cage ceiling, or cage pole," Manto said. "This simply doesn't happen with the Valle Shield."